Puck 419
on 
December 4, 2017
at 
9:39 pm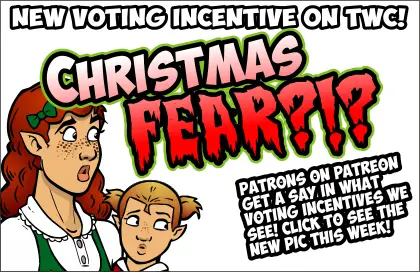 NEW VOTING INCENTIVE!!! CHRISTMAS FEAR!!!
Okay, this is admittedly a partial voting incentive. It's not done yet. But I've taken the Puck and Miranda element of the full image and created something goofy! Check it out! (And remember: fans who donate $5 or more a month get a say in what voting incentives run! If you want to join their controlling ranks, HEAD ON OVER TO PATREON and join the select club!)
VOTE FOR PUCK BECAUSE I'M DESPERATE!!!
As for this comic…
Not much to say, really. Mr. T did, by the way, did tangle with cancer in real life. He was diagnosed with rare type of T-cell lymphoma in 1995. (The fact that it was T-cell lymphoma wasn't lost as a point of humor with the man.) He went through the ringer: chemo, then interferon therapy, then more chemo, then radiation, then more chemo. And from what I've read, he reported that he fully understood why some cancer patients just want to give up. If you ever see pictures of the man during that time, they're frightening. He became totally unrecognizable.
But he came out the other side. Just like Colin will.
Mr. T, you are an inspiration to all. And I say that sincerely.