Puck 226
on 
March 24, 2014
at 
8:54 pm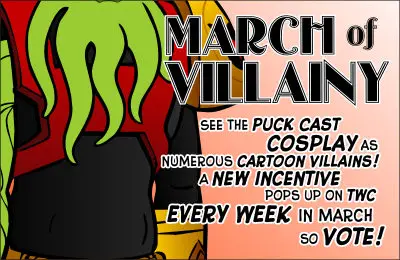 NEW WEEKLY VOTING INCENTIVE! MARCH OF VILLAINY!!!
A different Puck character cosplays as a famous cartoon villain … every single week in March! Now I know some of you have given me flack for going all 80's retro on you too often, so this time I'm making it all about prominent cartoons from the post-millennial decade. Just for the young'ns!
CLICK HERE TO VOTE FOR PUCK!!! IT'LL GRANT YOU TEMPORARY INVULNERABILITY TO METEOR ATTACKS!
And as for the comic…
She's baaaaaack. Again.
For readers who don't recognize the blonde chick, that's Tracee. We last saw Tracee working as Satan's public relations officer. We now see Tracee in a slightly different role. What does this mean? It means that kooky hilarity will ensue. As always.
When my wife saw this comic, she recoiled. "Gah, Tracee!" she exclaimed. "She's just too … blonde. It kind of stresses me out."
And that's the intended reaction.