Puck 427
on 
January 29, 2018
at 
10:33 pm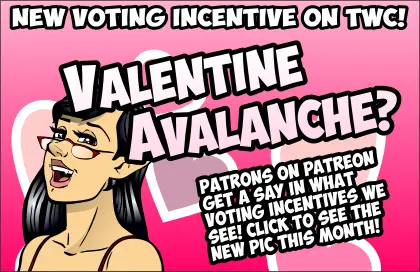 NEW VALENTINE'S DAY VOTING INCENTIVE!!!
The February voting incentive is here, and it's … a voting incentive! (Now with EXTRA INCENTIVE!) (And remember: fans who donate $5 or more a month get a say in what voting incentives run! If you want to join their controlling ranks, HEAD ON OVER TO PATREON and join the select club!)
VOTE FOR PUCK AND WARM MY ICY HEART!!!
As for this comic…
Looks like there's another comic to add into the Puck Foot Wiki. And if you didn't know there was a Puck Foot Wiki, then you're in good company, because I didn't know either until I stumbled across it one day. (I'm not going to link to it. If you want to see, you can just Google it and add that to your search history.) It simply links to every comic where someone in the cast appears barefoot. I get that some people are just … into that sort of thing, but it seems odd that this comic warrants such a wiki, given the fact that bare feet almost never, ever appear in the comic. For one thing, the framing of a comedy strip comic means that most shots are waist up or tighter. For another thing, SHOES. In a sad bit of irony, most of the bare feet have appeared in voting incentives over the years, but those aren't readily available for the wiki to link to, so … 🙁
At least there's one more comic to add to the list. For those people who regularly check and update foot wikis. Whoever you are.