Puck 428
on 
February 5, 2018
at 
9:03 pm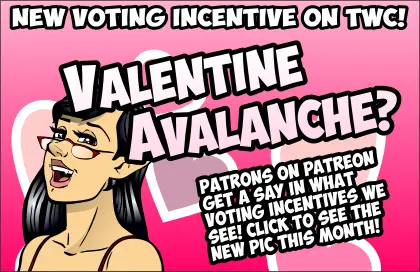 NEW VALENTINE'S DAY VOTING INCENTIVE!!!
The February voting incentive is here, and it's … a voting incentive! (Now with EXTRA INCENTIVE!) (And remember: fans who donate $5 or more a month get a say in what voting incentives run! If you want to join their controlling ranks, HEAD ON OVER TO PATREON and join the select club!)
VOTE FOR PUCK AND WARM MY ICY HEART!!!
As for this comic…
Fan favorite Hotdog Guy returns as another bookend segment as we transition between story arcs! He's good for that. And honestly, I'm not sure whether he qualifies as a 'fan favorite' given the fact that I don't think I've heard many readers say much about him. If they do, it's usually something like, "Who's this guy and why is Puck holding a hot dog?" It's a long story.
Next week, it's time for another 'fan favorite' to make an appearance.