Puck 455
on 
August 13, 2018
at 
10:11 pm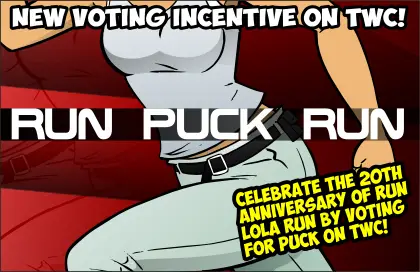 NEW VOTING INCENTIVE! RUN PUCK RUN!
Twenty years ago, some crazy foreign movie about a spitfire redhead and her super-stupid boyfriend came out. A few weeks later, the comic strip Puck began. Coincidence? I think not. Anyway, if you've seen Run Lola Run, go vote to see my weird homage. And if you haven't, uhm … vote anyway?
VOTE FOR PUCK TO DEFEAT THE ARMY OF BOTS!!!
As for this comic…
This one is directly inspired by my experiences dealing with my daughter. Like Daphne, she's not one for hair care, though as she's gotten older, she's refused to have her hair cut short. This means that going out in public requires a bout of parent-mandated hair care. The end result is usually a whole bunch of screaming.