Puck 454
on 
August 6, 2018
at 
8:25 pm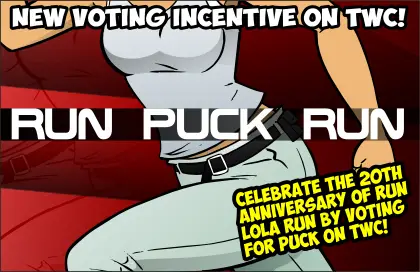 NEW VOTING INCENTIVE! RUN PUCK RUN!
Twenty years ago, some crazy foreign movie about a spitfire redhead and her super-stupid boyfriend came out. A few weeks later, the comic strip Puck began. Coincidence? I think not. Anyway, if you've seen Run Lola Run, go vote to see my weird homage. And if you haven't, uhm … vote anyway?
VOTE FOR PUCK TO DEFEAT THE ARMY OF BOTS!!!
As for this comic…
Daphne has never been drawn without her pigtails. Ever. At least since comic #81, and before that, she was only ever shown in a baseball cap. So this is the first time ever that we have seen her hair unleashed.