Puck 457
on 
August 27, 2018
at 
11:09 pm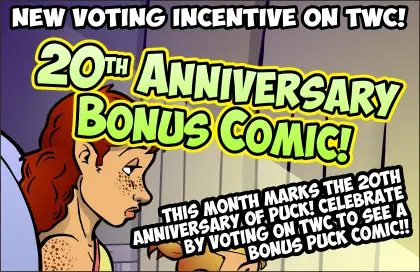 NEW VOTING INCENTIVE! 20th ANNIVERSARY BONUS COMIC!
That's right! Puck marks its 20th anniversary this September! Twenty years ago this comic began publishing in the McMaster Silhouette! Some of you weren't even alive back then! To celebrate, I've put up a bonus comic strip this month which serves as a little homage to the very first Puck comic. Vote for Puck on TWC to check it out!
VOTE FOR PUCK TO SAY, "TWENTY YEARS? HOLY S#$%, YOU'RE OLD!!!
As for this comic…
I will admit that I've kind of been itching to change Daphne's hair for a while. I didn't mind the pigtails, and I thought the look suited her, but one factor of the old hairdo was always a problem: Daphne's lack of human ears. The wolf ears mean that there's just this weird, unadorned expanse on the side of her head, and no matter how I drew it, it always looked a little funny. This longer hair look masks that.
So this new look might stick around for a while even after the prom is over. Or it may not. Really, my actions and directions are sometimes a mystery even to me.