Puck 458
on 
September 3, 2018
at 
8:46 pm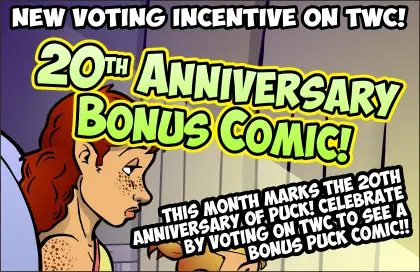 NEW VOTING INCENTIVE! 20th ANNIVERSARY BONUS COMIC!
That's right! Puck marks its 20th anniversary this September! Twenty years ago this comic began publishing in the McMaster Silhouette! Some of you weren't even alive back then! To celebrate, I've put up a bonus comic strip this month which serves as a little homage to the very first Puck comic. Vote for Puck on TWC to check it out!
VOTE FOR PUCK TO SAY, "TWENTY YEARS? HOLY S#$%, YOU'RE OLD!!!
As for this comic…
At least one reader saw this joke coming. I'd love to say that I often take punch lines in unexpected directions, but … I don't.
Also, I'm just going to say that though the 'baseball bat with nails in it' concept is a popular one in zombie movies, post-apocalyptic fiction and more, I seriously question the inherent wisdom of putting nails in your bat. Most baseball bats are made from hickory, which is one of the harder woods in existence. Putting a nail straight through it would likely just snap the wood lengthwise and make your bat garbage. You'd have to pre-drill holes for the nails, then carefully sink the nails, and I still think you'd be compromising the structural integrity of the bat. Not to mention the difficulties that would result from your spiky bat getting stuck in its target. It's just a bad choice overall.
Besides, when it comes to fighting the undead or the interdimensional, I have long held that a cricket bat is the gentleman's choice in arms.