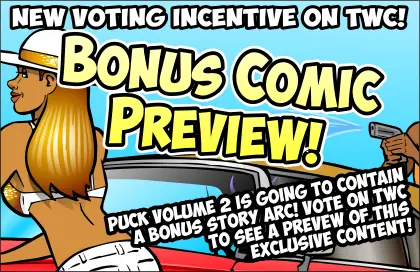 NEW VOTING INCENTIVE! CAR WASH!
There's another bonus preview image for the car wash bonus comic that's appearing in Puck Volume Two … eventually. This one features the actual washing of cars, so check it out!
VOTE FOR PUCK BECAUSE IT ALLOWS YOU TO EXERCISE YOUR FREE WILL!
As for this comic…
I could potentially fill hundreds of comics detailing the various bizarre forms of entertainment that Satan might have concocted for small children. But then this comic would essentially become a demonic version of the Addams Family, and that was already a brilliant comic. I don't need to tread that ground again. Except this one joke. Allow me this much.
Note: I mostly hate most of the pictures I draw and think they generally suck and look broken. But I do kinda like the shot of Puck in panel one. It is the first drawing I've made in the past five or six months that I'm marginally proud of. Mind you, I might wake up tomorrow morning and think that it sucks. That happens a lot too. But for right now, right here, I think it looks passable. And that's … rare.