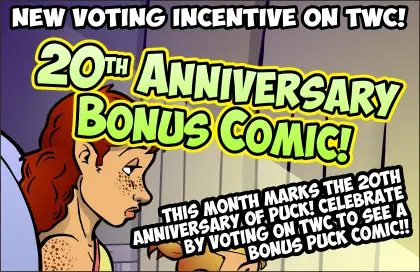 NEW VOTING INCENTIVE! 20th ANNIVERSARY BONUS COMIC!
That's right! Puck marks its 20th anniversary this September! Twenty years ago this comic began publishing in the McMaster Silhouette! Some of you weren't even alive back then! To celebrate, I've put up a bonus comic strip this month which serves as a little homage to the very first Puck comic. Vote for Puck on TWC to check it out!
VOTE FOR PUCK TO SAY, "TWENTY YEARS? HOLY S#$%, YOU'RE OLD!!!
As for this comic…
I don't know about you, but I personally think that this a good idea.