Puck 462
on 
October 1, 2018
at 
9:49 pm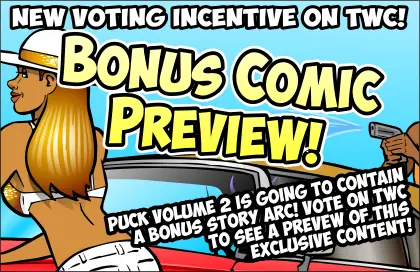 NEW VOTING INCENTIVE! CAR WASH!
There's another bonus preview image for the car wash bonus comic that's appearing in Puck Volume Two … eventually. This one features the actual washing of cars, so check it out!
VOTE FOR PUCK BECAUSE IT ALLOWS YOU TO EXERCISE YOUR FREE WILL!
ALSO…
This comic has an alternate joke that I wrote as a first draft concept. If you'd like to read the take I didn't use, then you can check it out on on my Patreon page where I just posted it. This is also as good a time as any to say a big thanks to the devoted and generous people who throw a few dollars my way every month on Patreon. It's really a big help and keeps the comic going, especially as ad revenue keeps getting less predictable for me. The donations on Patreon let me keep going, so thanks to those fine people. If you want to see who those people are, check out the 'THANKS' page in the menu bar.