Puck 463
on 
October 8, 2018
at 
9:47 pm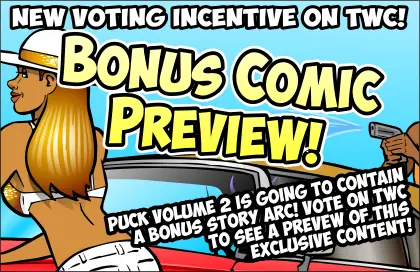 NEW VOTING INCENTIVE! CAR WASH!
There's another bonus preview image for the car wash bonus comic that's appearing in Puck Volume Two … eventually. This one features the actual washing of cars, so check it out!
VOTE FOR PUCK BECAUSE IT ALLOWS YOU TO EXERCISE YOUR FREE WILL!
As for this comic…
Let it be said right here that I love Arby's. Arby's is awesome, and (sadly) all too rare a sight 'round these parts anymore. When I was a teen, my family and I would make a semi-annual pilgrimage to the nearest Arby's (a solid half hour's drive away) armed with coupons. Then we would feast on way too many beef 'n cheddars and feel awful afterwards. The awful feeling, by the way, was entirely due to the quantity of the food consumed, not the quality. On a similar level, I am going to assume that teen Phoebe's ill feelings mentioned in panel four are due entirely to eating too much in a stressful scenario.
Eagle-eyed continuity people will note that Puck is walking Miranda with the expensive stroller that Colin's sister Heather gave her at the baby shower – right before Heather got assaulted by Tracee. So it's getting use!