Puck 479
on 
January 28, 2019
at 
9:09 pm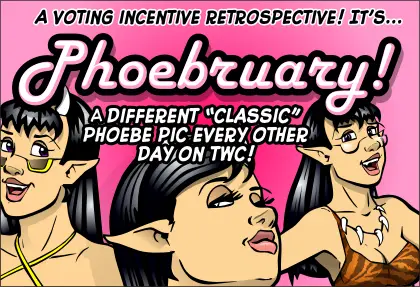 PHOEBRUARY VOTING INCENTIVE! A "NEW" VOTING INCENTIVE EVERY FEW DAYS!
Back in February of 2015, I declared the month 'Phoebruary' and ran a retrospective of a bunch of voting incentive images featuring our beloved Phoebe. Well, years have passed, and I've got many more images to explore, so get ready! Every few days I'll pop another Phoebruary image up – now with post-it note commentary! Try not to miss a one!
A VOTE FOR PUCK IS A VOTE FOR PHOEBE!
As for this comic…
I know it might be terrible of me to cut away from the prom plot just when things were getting good, but hey, that's how narrative works! And Satan really might be onto something here with his paper towel idea. If you've never tested the absorbency of a whole roll of paper towels, I suggest you try it. Just use a whole roll to, say, suck up seven gallons of liquid and you too will be amazed!