Puck 481
on 
February 11, 2019
at 
9:57 pm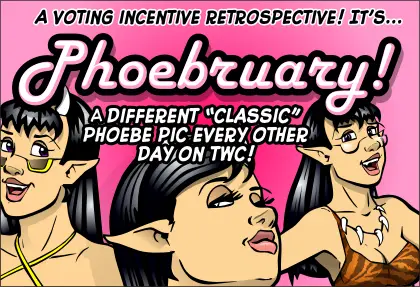 PHOEBRUARY VOTING INCENTIVE! A "NEW" VOTING INCENTIVE EVERY FEW DAYS!
Back in February of 2015, I declared the month 'Phoebruary' and ran a retrospective of a bunch of voting incentive images featuring our beloved Phoebe. Well, years have passed, and I've got many more images to explore, so get ready! Every few days I'll pop another Phoebruary image up – now with post-it note commentary! Try not to miss a one! This week it'll be all Valentine's Day stuff, so we're even in season!
A VOTE FOR PUCK IS A VOTE FOR PHOEBE!
As for this comic…
Evidence mounts that the villain of the story is dressed in black. What a shocker.