Puck 482
on 
February 18, 2019
at 
9:18 pm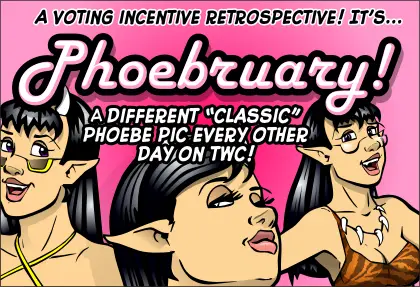 PHOEBRUARY VOTING INCENTIVE! A "NEW" VOTING INCENTIVE EVERY FEW DAYS!
Back in February of 2015, I declared the month 'Phoebruary' and ran a retrospective of a bunch of voting incentive images featuring our beloved Phoebe. Well, years have passed, and I've got many more images to explore, so get ready! Every few days I'll pop another Phoebruary image up – now with post-it note commentary! Try not to miss a one! This week it'll be all Valentine's Day stuff, so we're even in season!
A VOTE FOR PUCK IS A VOTE FOR PHOEBE!
As for this comic…
I realize now that framing a comic with a blind character is a little challenging in terms of visuals. One of the most important points of expression for a comic character is eye direction: it tells the reader about the character's point of focus AND the character's attitude. See Tyler's side eye in panel two, or Daphne's flippant eye roll in panel three. Blind people, though, don't do that. The pupils tend to remain relatively neutral in placement. That's … difficult to work with in a comic where you have only four tight panels and a lot of the storytelling relies on visual shorthand. Oh well. Guess I'll do what I can.