Puck 511
on 
September 9, 2019
at 
10:33 pm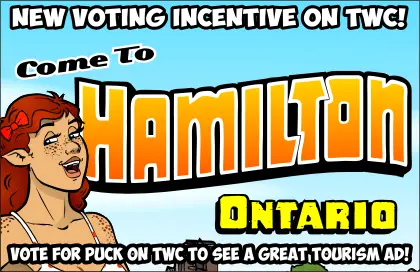 SEPTEMBER VOTING INCENTIVE FOR ALL!
So the deal here is that I've been working on background images for that bonus comic I keep working on. I had some backgrounds of scenery from my city drawn and colored but nothing that would make a good voting incentive. So I quickly drew a pic of Puck, smacked something together and the end result actually looks pretty good!
VOTE TO BE THE BEST YOU CAN BE!
As for this comic…
Nothing much to say. Beyond noting that somewhere out there, I'm positive that there are women paying big money to have bananas mashed in their hair as a beauty treatment. I'm not even Googling it. I just already know it's a thing, instinctively.
All right, I broke down and Googled it. Turns out there are SO MANY BANANA-BASED HAIR PRODUCTS AND TREATMENTS.
I knew it.