Puck 515
on 
October 7, 2019
at 
9:33 pm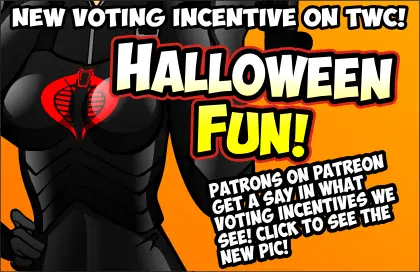 OCTOBER VOTING INCENTIVE IS HERE!
I put the vote to my top tier patrons on Patreon to find out what Halloween costume they'd like to see, and you can see their top choice by voting for Puck TWC! Actually it was a tie between this and one other choice, so I might need to draw another pic later in the month.
VOTE TO HAND OUT THE CANDY WITH STYLE!
As for this comic…
People were wondering when the sugar high was going to reach its crescendo. I'd say … probably here.