Puck 516
on 
October 14, 2019
at 
10:25 pm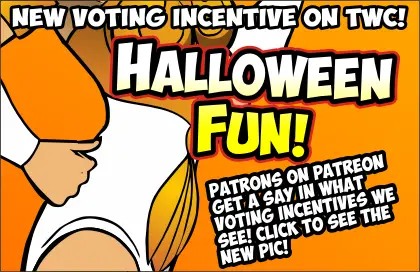 ANOTHER OCTOBER VOTING INCENTIVE IS HERE!
I put the vote to my top tier patrons on Patreon to find out what Halloween costume they'd like to see, and you can see their SECOND top choice by voting for Puck TWC! It's another 80's milestone. My generation speaks loud.
VOTE TO HAND OUT THE CANDY WITH STYLE!
As for this comic…
Miranda's weird woobie panda bear is actually modeled on my own favorite childhood stuffed animal. It was a bizarre homemade creation that my older cousin made as a sewing project. It was always kind of droopy and sad-looking. It did show up in an earlier comic, so yay for continuity!
And for those who are wondering what Tracee and Miranda are watching, CLICK HERE AND WONDER NO MORE. Beware, though: the song is a nasty ear worm that you will never, ever forget.