Puck 517
on 
October 21, 2019
at 
9:40 pm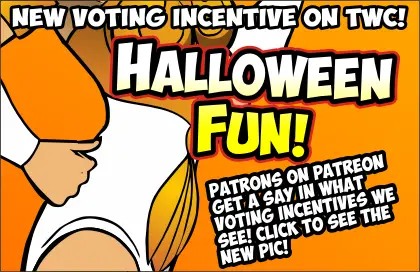 ANOTHER OCTOBER VOTING INCENTIVE IS HERE!
I put the vote to my top tier patrons on Patreon to find out what Halloween costume they'd like to see, and you can see their SECOND top choice by voting for Puck TWC! It's another 80's milestone. My generation speaks loud.
VOTE TO HAND OUT THE CANDY WITH STYLE!
As for this comic…
Daphne's plight here mirrors my own. I am generally good with words, and I'm fairly articulate in certain contexts, but in one-on-one conversations I tend to fall apart. I know what I want to say but never have the slightest clue how to say it. It's infuriating. That said, I am of the belief that there are two kinds of people in the world: those who stress out about how to properly say things and end up often not saying anything at all, and those who say their mind without a single thought as to how it will be received, sometimes leading to disastrous consequences. Out of the two choices, I guess I'm happy to be in the former camp? I guess?