Puck 522
on 
November 25, 2019
at 
10:06 pm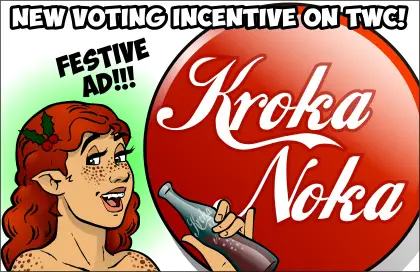 HOLIDAY VOTING INCENTIVE IS LIVE!
I felt, in the spirit of the holidays, that I needed to celebrate a certain cola company that for all intents and purposes birthed the modern Santa. Or at least celebrate the Puck universe's off-brand equivalent. So here goes!
VOTE TO ROT YOUR TEETH WITH SUGARY JUNK!
As for this comic…
As stupid as Satan is, I gotta say that he knows when to start getting scared. But seriously, your partner saying, "I don't know how I feel about your behavior," is always WAY scarier than them just saying, "I'm angry at you for your behavior." In the latter case, the anger is strong, immediate, and has already taken form. In the former, it hangs over you like a spectral wraith of hostility. You do not yet know what form it will take, nor when it will assume physical form. And that … that is true fear.