Puck 523
on 
December 2, 2019
at 
9:49 pm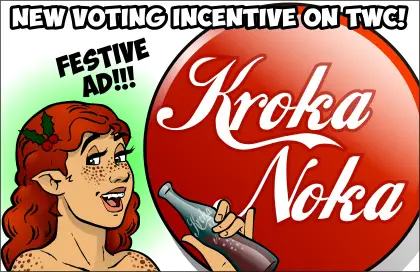 HOLIDAY VOTING INCENTIVE IS LIVE!
I felt, in the spirit of the holidays, that I needed to celebrate a certain cola company that for all intents and purposes birthed the modern Santa. Or at least celebrate the Puck universe's off-brand equivalent. So here goes!
VOTE TO ROT YOUR TEETH WITH SUGARY JUNK!
As for this comic…
It took me three or four tries to really get the drawing in panel four right. It can be strangely hard to come up with a fantasy creature sometimes. You'd think there would be no wrong answer, but then you draw the thing and it just looks … wrong. This one looked less wrong than the first few tries. I was trying to approach the majesty of Ethan Nicolle's Bearmageddon creations but it's just not where my talents lie.