Puck 524
on 
December 9, 2019
at 
9:24 pm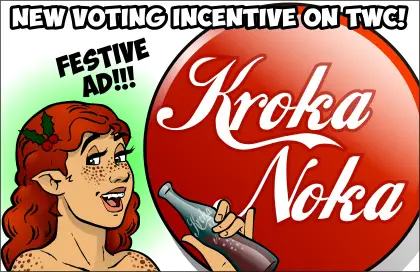 HOLIDAY VOTING INCENTIVE IS LIVE!
I felt, in the spirit of the holidays, that I needed to celebrate a certain cola company that for all intents and purposes birthed the modern Santa. Or at least celebrate the Puck universe's off-brand equivalent. So here goes!
VOTE TO ROT YOUR TEETH WITH SUGARY JUNK!
As for this comic…
People were like, "What about PHOEBE? What happened to PHOEBE?!?" So here's some Phoebe. She's fine. Or as fine as … whatever this is here. Is this fine?