Puck 528
on 
January 6, 2020
at 
9:27 pm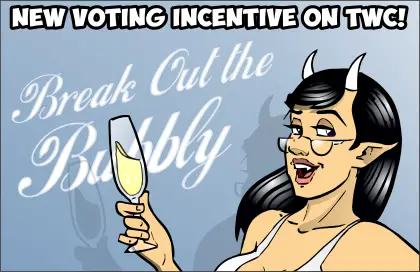 NEW YEAR'S VOTING INCENTIVE IS LIVE!
I felt like the New Year and the new decade needed to start with a little bit of class, so … here goes! Vote for Puck on TWC to ring in the new decade with Phoebe. In … some sort of style.
VOTE TO SIP THE FINEST OF DISCOUNT SPARKLING WINES!
As for this comic…
I went through the entire process of posting this comic, uploaded the file, and was just about to hit the 'publish' button when I realized that Hannah was not wearing her crown. In any of the panels. This has happened before to me, in multiple comics, with multiple other characters. I had to add crowns 'in post' to numerous previous comics, on Tyler, Papa Shnorf and Phoebe. Adding Phoebe's broken crown in post was a bit of a challenge, but whatever. This, though, was a close call. Not that it matters, I guess. I mean, I guess she could have taken the crown off. Where's the fun in that, though? Hannah is the type to wear her crown with pride.
On that note, I finally (FINALLY) added Hannah to the character list. Her picture might show up as a blank for a little while, even though I have uploaded a picture for her. (It has something to do with CSS updating and website memory or something or other. Just trust me that the picture will show up eventually.) Also, when the pic DOES show up, you'll see that I pulled it from panel two of this comic … before I added the crown. So my crown omission lives on in one form.