Puck 527
on 
December 30, 2019
at 
9:21 pm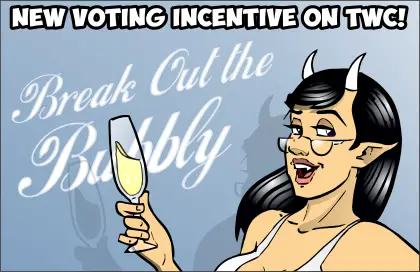 NEW YEAR'S VOTING INCENTIVE IS LIVE!
I felt like the New Year and the new decade needed to start with a little bit of class, so … here goes! Vote for Puck on TWC to ring in the new decade with Phoebe. In … some sort of style.
VOTE TO SIP THE FINEST OF DISCOUNT SPARKLING WINES!
As for this comic…
Sad Daphne is sad. But just so you know, this is the last we'll see of sad Daphne's sad wallowing. From here, things will change. Promise.
In other news…
I've started putting older Puck comics on WEBTOONS because, well, it's the biggest platform for webcomics in the world, and it works well on mobile. That said, I found out the hard way that Webtoons is VERY touchy on the whole censorship front, so it looks like I won't be able to post a number of the older black and white comics there due to their questionable content. That stuff will still be readily available here, though. So no worries.
Posting to Webtoons is an insanely laborious process, requiring me to resize and re-cut each individual comic panel by panel. So it may take me a long, LONG while to get most of the back catalog up. If you do use Webtoons, though, you could check it out in the meantime and give me some likes, or subscribes, or whatever they call it over there.