Puck 546
on 
May 11, 2020
at 
9:53 pm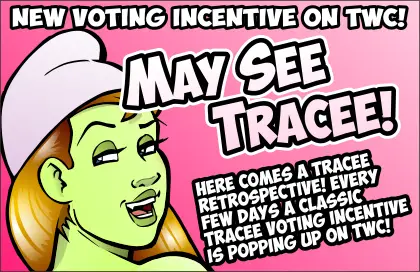 A MAY VOTING INCENTIVE CAVALCADE!
We're doing a Tracee retrospective this month! Every few days, another classic voting incentive will pop up! Make sure to vote often and catch them all!
As for this comic…
If you've never been to the halls of higher learning and have thus never learned why a women's studies prof who specializes in post-colonial feminist literature is particularly formidable, just … just trust me. In the humanities field, there are two types of academics: the genial, quirky, chill variety, and the aggressive, angry variety. It's not that the subject matter is inherently a problem or anything. It's more that you don't get into that academic field unless you really, really relish the fight.