Puck 558
on 
August 3, 2020
at 
9:20 pm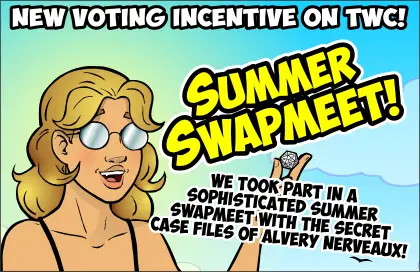 WE INTERRUPT THE CAR WASH FOR A SOPHISTICATED SUMMER SWAPMEET!
This summer I took part in Lana's Smexy Summer Swapmeet event and worked with Alvery Nerveaux's Secret Case Files where we swap characters for a fun little voting incentive experience. Be sure to check out Alvery Nerveaux, vote for us, and ALSO…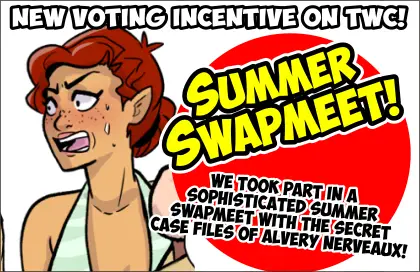 CHECK OUT ALVERY NERVEAUX'S VOTING INCENTIVE FEATURING THE PUCK CAST!
Alvery Nerveaux's Secret Case Files came up with a hilariously odd voting incentive featuring the Puck gang. It's even sorta tangentially Car Wash-related, so be sure to check out the madness and VOTE FOR ALVERY!
ALSO CHECK OUT ALL THE OTHER COMICS TAKING PART IN LANA'S SWAPMEET HERE!!!
As for this comic…
Note that this is actually the first time that Phoebe has worn her trademark eyeglasses since November 5, 2018. Time to take those contacts out because her eyes would be seriously irritated after all that time.