Puck 559
on 
August 10, 2020
at 
10:11 pm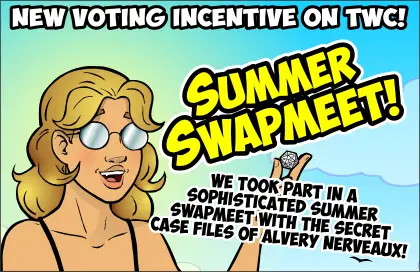 WE INTERRUPT THE CAR WASH FOR A SOPHISTICATED SUMMER SWAPMEET!
This summer I took part in Lana's Smexy Summer Swapmeet event and worked with the creators of Alvery Nerveaux's Secret Case Files in order to swap characters for a fun little voting incentive experience. Be sure to check out my pic of Alvery Nerveaux by voting for Puck, and ALSO…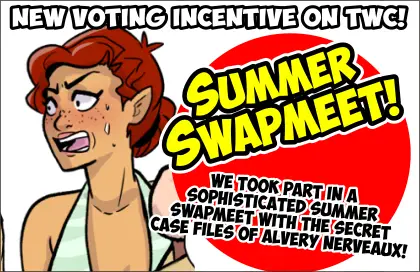 CHECK OUT ALVERY NERVEAUX'S VOTING INCENTIVE FEATURING THE PUCK CAST!
Alvery Nerveaux's Secret Case Files came up with a hilariously odd voting incentive featuring the Puck gang. It's even sorta tangentially Car Wash-related, so be sure to check out the madness and VOTE FOR ALVERY!
ALSO CHECK OUT ALL THE OTHER COMICS TAKING PART IN LANA'S SWAPMEET HERE!!!
As for this comic…
Many were flabbergasted, even highly doubtful, at the prospect of a blind girl texting last week. But honestly, have people never heard of voice-to-text? You just say, "Hey Siri, text Bob: I can't come to the movies tonight because of apocalypse." And bam. Very easy. Incredibly simple answer.
Then I had to go throw a wrench in the works and take it one step further with this comic. I'm not sure the exact answer for this comic's conundrum either, but I'm sure there are ways to use voice-to-text involving emojis.
There is also another answer.
Hannah's condition is closely based on the condition of a friend's mom. My brother and I would hang out at their house as kids, and though this woman was blind, she never ceased to impress with her eerie ability to read the world around her. Like Hannah, she wasn't totally blind. Rather, she could see shapes and colors if something were held right up to her eyes. She made good use of this ability by ASSEMBLING 1000 PIECE PUZZLES. Regularly. She would hold each piece up to her eye, get a sense of it, and her incredible spatial sense would allow her to remember where other similar pieces were in the puzzle. It was a crazy feat, but it was something she loved to do. By looking at the puzzle piece by piece, she got a good sense of the overall image.
Similarly, Hannah could see the individual emojis reasonably well by holding the screen right up to her eyes. I have another legally blind friend who uses an app that greatly zooms in on text as well, so that emoji could be huge if need be. (This other friend quite literally reads text two or three letters at a time, with each word filling the whole screen of a very large laptop. It takes a while, but it's better than not reading your emails.)
In other words, to quote the divine Jeff Goldblum, "Life, uhhhhhhhhhh, finds a way."