Puck 560
on 
August 17, 2020
at 
9:53 pm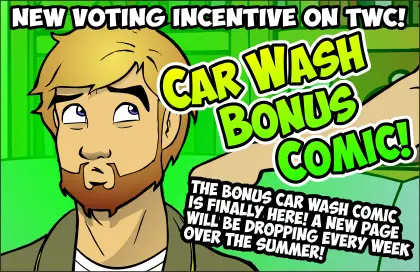 THE BONUS STORY ARC COMIC CONTINUES! PAGE 11 IS LIVE!
After two years of what the movie folks call 'development hell', the Car Wash bonus comic is ready for release! I initially planned this thing to be a print-only comic that would conclude Puck Volume Two, but then Puck Volume Two never really happened due to low (to no) demand, so now I'm putting it as a voting incentive! Yay! Every week will bring a new page, and new pages will be dropping all summer, so please…
VOTE TO WASH THAT CAR REAL GOOD!
As for this comic…
Hey look, it's that rarest of things: a stand-alone joke comic! That means that we're in the crazy no-man's land between story arcs. Won't last long.
This comic is one of those 'art imitates life' things. This exchange is pretty much a verbatim exchange my wife had with a mother and her child one day. And while my wife did have a little boy of her own, she was more familiar with the distinct sounds of transforming through me.
Hasbro, by the way, would not be happy with this comic because it uses the word 'transform' as a verb. Apparently once your brand name starts being used as a verb (as in, "let me Google that,") it becomes very hard to defend the trademark in an American court of law, so they twist themselves silly trying to avoid the word used as a verb. They always prefer the word 'convert'. Which is dumb, but whatever. "Cheeka chooka chaka khee" is not the sound of converting. And it never will be. It's the sound of transforming…