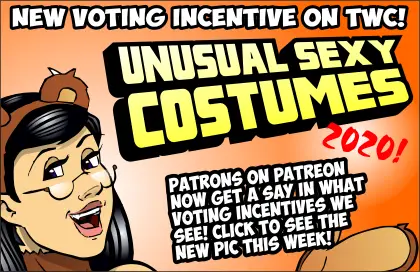 IT'S HALLOWEEN! THAT MEANS IT'S TIME FOR UNUSUAL SEXY COSTUMES!
You know what we're talking about: those sexy costumes for the ladies based on concepts that have no right to be sexy. We're doing a whole series on that for the month of October!
VOTE TO ASK YOURSELF, "WHYYYYYY?"
As for this comic…
I have little to say. I would say that Puck's excessive negativity is making her a serious buzzkill, but honestly I'm just holding the mirror up to my own joyless soul. When people have 'fun' ideas, particularly ones that involve dressing up or going somewhere that is not my house, I tend to be the first to roll my eyes. I'd like to think of myself as a Colin or a Phoebe. But deep down, I know I'm a Puck.