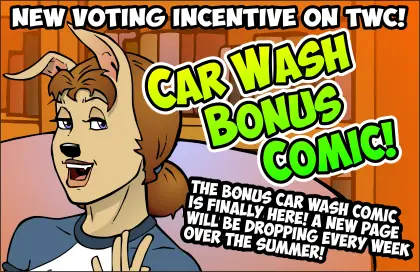 THE BONUS STORY ARC COMIC CONCLUDES. THE LAST PAGE IS … still here.
It's the tail end of summer, and that brings to an end the 'Car Wash Caper' bonus comic! To see the very last page, head on over to TWC and vote for Puck!
VOTE TO WASH THAT CAR REAL GOOD!
As for this comic…
I think the observant reader will be able to tell where this is going. Now whether said observant reader thinks where this is going is a good idea, I have no clue.
But I think it's a good idea. And let's face it: you can't stop me.