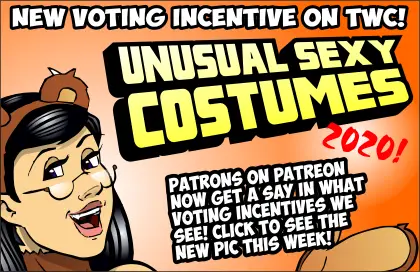 IT'S HALLOWEEN! THAT MEANS IT'S TIME FOR UNUSUAL SEXY COSTUMES!
You know what we're talking about: those sexy costumes for the ladies based on concepts that have no right to be sexy. We're doing a whole series on that for the month of October!
VOTE TO ASK YOURSELF, "WHYYYYYY?"
As for this comic…
We get to the heart of the matter now — the question that people have been speculating about in the comics for a few weeks now: who plays whom?
No answers. Yet.