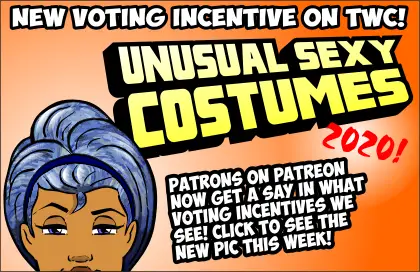 IT'S HALLOWEEN! THAT MEANS IT'S TIME FOR UNUSUAL SEXY COSTUMES!
You know what we're talking about: those sexy costumes for the ladies based on concepts that have no right to be sexy. We're doing a whole series on that for the month of October!
VOTE TO ASK YOURSELF, "WHYYYYYY?"
As for this comic…
It's been a while since Puck and Phoebe had a good, old-fashioned Puck-n-Phoebe Argument. I mean, that used to be the bread and butter of this comic! The last time was … well, they argued in the washroom at prom, but one of them wasn't quite in her right mind, so I'm not sure that counts.