Puck 588
on 
March 1, 2021
at 
8:46 pm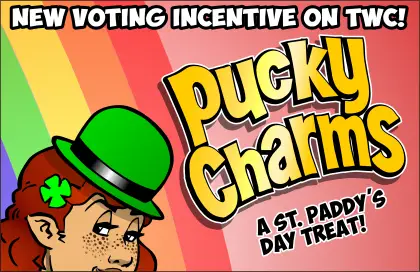 NEW MARCH VOTING INCENTIVE!!!!
I asked my patrons who should be a leprechaun this year and they voted for Puck, so…
VOTE TO KISS THE BLARNEY STONE!!!
As for this comic…
We're assuming this incident with the shoe occurred before Daphne decided to turn over a new leaf, but there's no way of knowing for sure. It's not entirely shocking, though. Not for those of us who remember what she did to Heather's luggage.