Puck 589
on 
March 8, 2021
at 
9:53 pm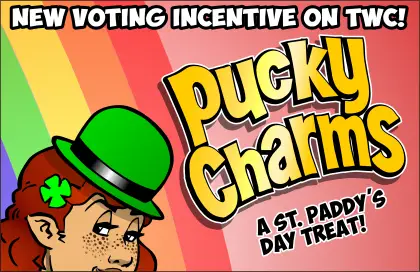 NEW MARCH VOTING INCENTIVE!!!!
I asked my patrons who should be a leprechaun this year and they voted for Puck, so…
VOTE TO KISS THE BLARNEY STONE!!!
As for this comic…
After Puck being the voice of reason when Daphne was being a horrible person, Daphne takes a turn being the voice of reason while Puck assumes the mantle of villainy. It's kind of like there's one good person between the two of them, but that good person shifts around all the time, changing the ratio of good in each of them wildly.