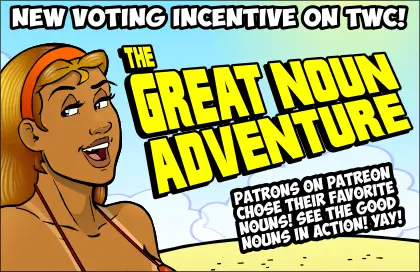 JUNE VOTING INCENTIVE READY TO BE INTERCEPTED!!!
I asked my fine patrons on Patreon about the nouns they wanted to see in a voting incentive. Then I collected them all, put them to a chaotic vote, and am going to spend the next while making those noun dreams a reality through crazy voting incentives!
VOTE TO SEE NOUNS BY THE POUNDS!!!
As for this comic…
I probably need to address the use of the word 'redneck' in this comic.
There are those people who staunchly claim that Canada doesn't have rednecks – that rednecks are an American thing exclusively. Those people have often never been to Canada, though.
Certainly people are aware of the uncultured backwoods Canadian stereotype via Bob and Doug, Red Green and the like. This is certainly a real thing, and some might consider them Canadian rednecks. The Bob and Doug types, though, are a northern Ontario phenomenon. Down in southern Ontario, we have our own special brand of rural poverty that more closely resembles its American counterpart. I boldly defend my right to call them rednecks, but if you cannot accept that, I apologize.
I also will take this moment, though, to remind you that Trailer Park Boys was a Canadian show.
QED.