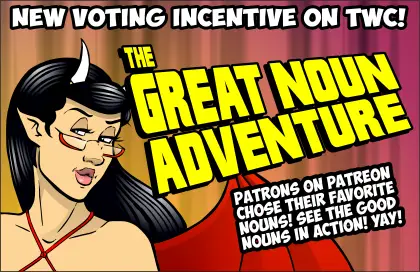 JUNE VOTING INCENTIVE READY TO BE INTERCEPTED!!!
I asked my fine patrons on Patreon about the nouns they wanted to see in a voting incentive. Then I collected them all, put them to a chaotic vote, and am going to spend the next while making those noun dreams a reality through crazy voting incentives!
VOTE TO SEE NOUNS BY THE POUNDS!!!
As for this comic…
It's been a while since a good old-fashioned threat of violence from our leading lady. I thought I'd bring us back to basics with this one.