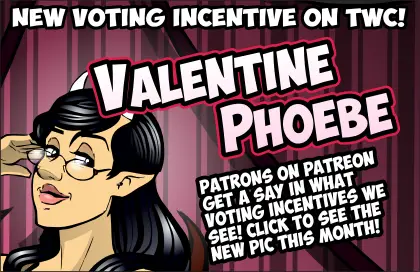 IT'S A VALENTINE'S DAY VOTING INCENTIVE!!!
Just a little Phoebe for your February blues, so…
VOTE TO PROVE ROMANCE ISN'T DEAD!!!
As for this comic…
The final panel does leave us with some questions, chief among them being, "Does Phoebe actually have the power to understand and converse with raccoons? Can she converse with ANY animal at will? Or is she just losing her mind from fear and imagining a conversation that never actually happened?"
These are all good questions.