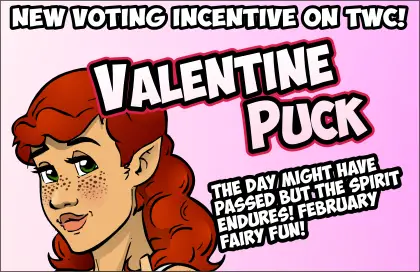 IT'S A VALENTINE'S DAY VOTING INCENTIVE!!!
Just a little Puck for the post-Valentine's Day peoples, so…
VOTE TO PROVE ROMANCE ISN'T DEAD!!!
As for this comic…
We're getting very near. Any minute now. And by 'minute', I do mean 'week'. The suspense is killing me!
My wife informed me that she's found this entire story arc somewhat distressing due to the simple fact that Phoebe is dressed in an outfit that looks far more suited to Puck, and it's causing some sort of cognitive dissonance for her. And my initial plan was to have Puck play Velma, but I really wanted to pull the 'lose her glasses' gag, and that didn't work as well if the character wearing the glasses didn't actually need them.
Oh well. The cognitive dissonance will end soon enough when this interminable story arc does.