Puck 644
on 
March 28, 2022
at 
10:16 pm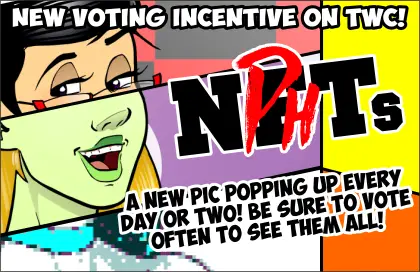 IT'S NFTs WITH A PHOEBE TWIST! IT'S NPHTs!!!
Okay, so they're not really NFTs. I'm not getting anywhere near the blockchain. But these are even better! Each non-procedurally-generated NPHT will be 'minted' to one of my high-tier Puck patrons – and they'll know it's theirs because their names will be on them! A new NPHT will be popping up every day or two all throughout April, so vote often to see 'em all!
VOTE TO TAKE IT TO THE MOON!!!
As for this comic…
We all knew something like this was coming. I hold the belief that the knowledge of a joke's inevitability only makes it funnier. And that's a convenient belief to hold for a predictable hack.