Puck 649
on 
May 2, 2022
at 
11:21 pm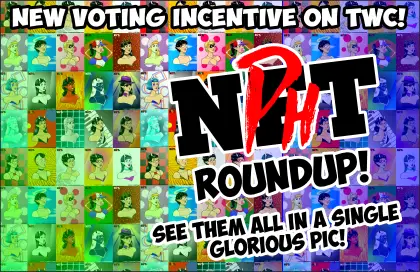 IT'S AN NPHT ROUNDUP!!!
Last month we ran 22 separate 'NPHT' voting incentives and even the most diligent of voters might have missed a few. Here's your chance to see them all in one image! Which one is your favorite?
VOTE TO TAKE IT TO THE MOON! AGAIN!!!
As for this comic…
This'll probably be about the closest thing we'll ever get to a Papa Shnorf face reveal. I said a while ago that while characters in the comic might see Papa Shnorf sans costume, we the readers never shall. And I think I'll stick with that. If only because anything I draw will never live up to the hype.