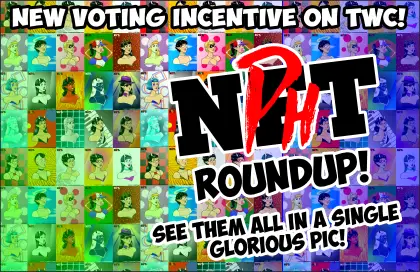 IT'S AN NPHT ROUNDUP!!!
Last month we ran 22 separate 'NPHT' voting incentives and even the most diligent of voters might have missed a few. Here's your chance to see them all in one image! Which one is your favorite?
VOTE TO TAKE IT TO THE MOON! AGAIN!!!
As for this comic…
Here we reach the ultimate unsatisfying end to the ultimate unsatisfying story arc.
A few obvious questionable points that I'd like to acknowledge.
Firstly, I acknowledge that it's weird that the group is driving with the cabin light on. But I chose to have them leave that cabin light on because seeing characters is usually better than not seeing characters. And I'm tired of shading nighttime scenes.
Secondly, I also acknowledge that a settlement of six people does not legally qualify as a 'town'. It's at best a hamlet. The word 'town' just fit better and looked nicer.
Thirdly, I am aware that the Mystery Machine is wildly off-model (or at least entirely different) in panel three. But you can chalk that up to my terrible vehicular drawing skills. And my laziness in not looking up appropriate reference material. And you know what they say: laziness plus marked lack of skill equals great success.