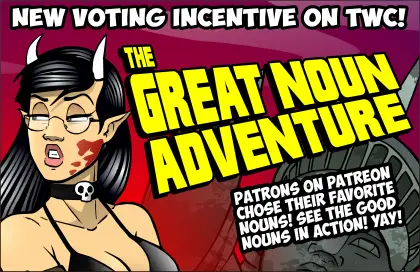 The GREAT NOUN ADVENTURE RETURNS!
A year ago we did a big, weird noun-voting experience over on Patreon with my $5+ patrons and this year it came back with much fanfare! And now you get to see the bizarre results! It's a pile of weird nouns just thrown into a blender. What will result? Well…
VOTE TO EXPOUND WITH A GREAT DEAL OF NOUNS!!!
As for this comic…
We arrive at the end of this story arc (save for a little coda and wrap-up stuff still coming down the pipes) and I, for one, am infinitely grateful. This comic never ceases to amaze me with how much time it takes to convey even the simplest of story arcs. This Scooby-Doo thing was supposed to be a fun little diversion. And it took the better part of two years to complete. For the people who stuck it out for that, I applaud you. And for newer readers, they may be surprised to learn that Puck is not actually a dedicated Scooby-Doo fan comic.
As for me, I share Puck's sentiment in panel four. Now let us never speak of Scoob again.