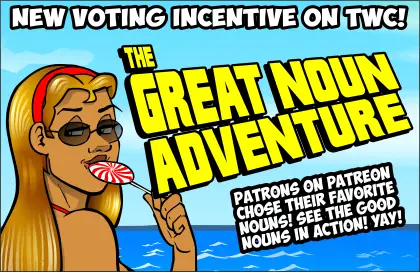 The GREAT NOUN ADVENTURE RETURNS!
A year ago we did a big, weird noun-voting experience over on Patreon with my $5+ patrons and this year it came back with much fanfare! And now you get to see the bizarre results! It's a pile of weird nouns just thrown into a blender. What will result? Well…
VOTE TO EXPOUND WITH A GREAT DEAL OF NOUNS!!!
As for this comic…
Monocles popping all over the place, man.
Just to clarify, though, this comic does NOT mean that another kid is on the way. Lots of people jumped to that conclusion and I want to dispel that theory right now. No more kids. This comic is already crowded enough as it is. Though now that I think about it, Miranda was conceived in the back of a vehicle, so I could see where people might be coming from. But still. No kids.
And happy Fireworks Day to all those Americans out there. May your eagles remain bald and your dough remain fried like God intended.