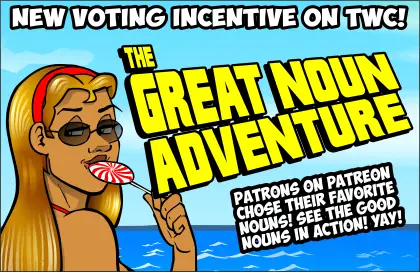 The GREAT NOUN ADVENTURE RETURNS!
A year ago we did a big, weird noun-voting experience over on Patreon with my $5+ patrons and this year it came back with much fanfare! And now you get to see the bizarre results! It's a pile of weird nouns just thrown into a blender. What will result? Well…
VOTE TO EXPOUND WITH A GREAT DEAL OF NOUNS!!!
As for this comic…
Just going to say that it is immensely satisfying to draw these characters in outfits that are more typical for them. It's been a while. Puck is in plaid. Daphne is in a baseball tee. Phoebe is in something that makes you raise an eyebrow. All is right with the world.
For the record, I had a friend in high school whose parents got in hot water when they tried to redeem gift certificates that were purchased using counterfeit money. I think the gift certificates were given to them by a relative who claimed innocence. Officially they all blamed the store. But we all know what happened. In this scenario, though, I think Phoebe will have more success redeeming the gift card. Daphne is usually quite competent in her scams, so if she's cheating the system, she's probably doing it in a very effective way. Not that that's a good thing. But there you are.