Puck 664
on 
August 15, 2022
at 
10:50 pm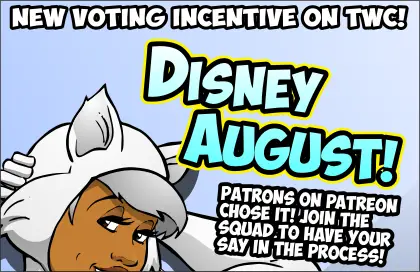 It's a DISNEY KIND OF AUGUST!
We've done Disney villains before, but we're doing more heroic characters this time. The patrons threw down some suggestions, and you'll see the results in the coming weeks!
VOTE TO PUT THE MAGIC BACK IN THE KINGDOM!!!
As for this comic…
In a comic that probably already has too many peripheral characters, here comes a new character! Details to follow, though this one will likely stay on the periphery. The cast just can't take any more expansion. Though now that I think about it, this is the last new recurring character I'm planning to introduce for at least the next two hundred or three hundred comics, so thank goodness for that.