Puck 663
on 
August 8, 2022
at 
11:34 pm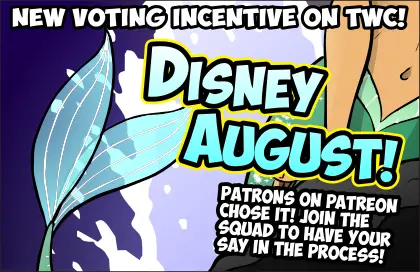 It's a DISNEY KIND OF AUGUST!
We've done Disney villains before, but we're doing more heroic characters this time. The patrons threw down some suggestions, and you'll see the results in the coming weeks!
VOTE TO PUT THE MAGIC BACK IN THE KINGDOM!!!
As for this comic…
This comic sadly required a markedly different angle of the nerd store compared to what I'd drawn previously, which meant that I needed to draw, ink and color another background. That means I finished this comic about three minutes before posting it, after spending WAY too long on it.
Was it worth the effort? No. Definitely not.