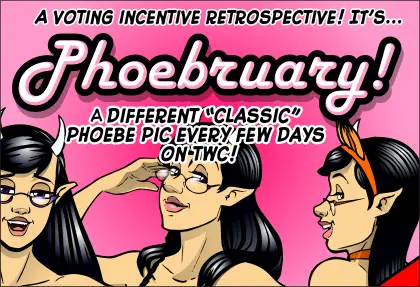 PHOEBRUARY RETURNS!!!
Every few days I'll upload a different classic Phoebe February pic. There's been a lot of them.
VOTE TO SUPPORT YOUR LOCAL PHOEBE!!!
As for this comic…
This comic doesn't look like it took forever to finish. It looks like another dumb comic. But dang did it take forever to finish. It's the little things that add up: the large number of characters, the motorcycle (which requires a hunt for the appropriate reference pics and all that), the new character (which requires a bit of design work to get right). It all slows me down.
But with that, this little min-arc has ended. Onto other things.