Puck 699
on 
April 17, 2023
at 
9:16 pm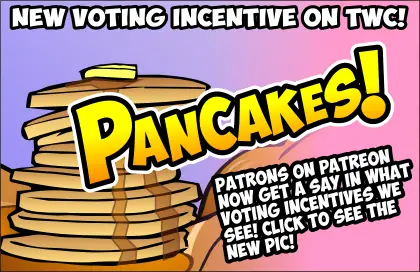 APRIL IS HERE!!! TIME FOR PANCAKES!!!
Whether you call them flapjacks, griddle cakes or flat muffins, you're gonna want this short stack, so…
As for this comic…
When writing this comic, I had a really hard time deciding between a hot, greasy ferret and a hot, greasy mongoose. 'Mongoose' is the funnier word, but ferrets have more cultural presence in my neck of the woods. Case in point: I don't think I've ever actually seen a real mongoose outside of nature documentaries. Ferrets, however, are omnipresent as household pets. At least I think they are? Honestly, come to think of it, I'm not sure I've ever seen a ferret in real life either.
The one in 'Kindergarten Cop' was pretty cute, though.