Puck 703
on 
May 15, 2023
at 
9:21 pm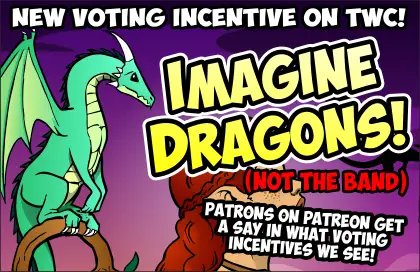 MAY IS HERE!!! FANTASY GOODNESS COMES OUR WAY!!!
Patrons voted for dragons, so …
As for this comic…
We are (I think) only two comics away from the return of the main cast to the comic. And from the waning comments and reader engagement, I guess it's high time.
And yes, I'm aware that those clothing donation bins are locked and specifically designed so that you can't easily reach in and raid their contents like this. I just thought it was a funny visual so I went with it. Let's assume that Satan has a way with these things. If Satan had any power, I think it would be the power to steal from the poor.