Puck 705
on 
May 29, 2023
at 
11:14 pm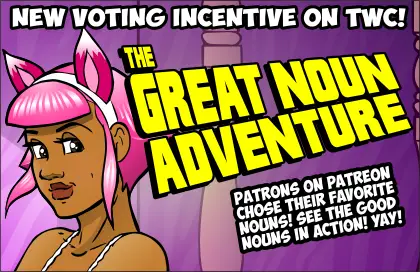 NOUNS ARE BACK!!! REVENGE OF THE NOUNS!!!
Over on Patreon, my top-tier patrons suggested nouns and we had a big battle royale between them, with the victors getting the most votes … and here are some of those glorious nouns in picture form.
As for this comic…
I guess it hasn't been that long since Phoebe appeared in the comic, but it feels like it's been a while. The past few arcs have all been about peripheral characters not really involving Phoebe much, and the previous longer story arc had her dressed as Velma for the majority of the time, so it'll be good to have her front and center for a change.